We accept a variety of new and reclaimed building materials as well as pre-owned furniture and appliances in good working condition.  
To request a pickup for items that won't fit in your vehicle, fill out our online Pick up Request form.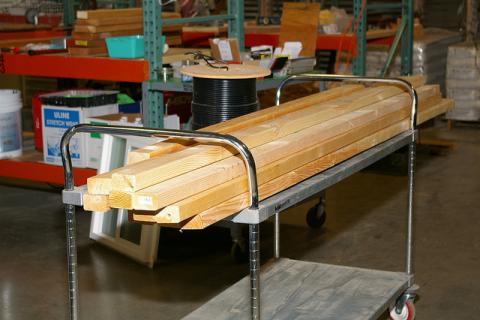 We take materials that:
are in good repair
are free of breakage or excessive wear
have all their parts
can be resold in our retail environment


Typical donations include:
Appliances - excluding fridges and dishwashers over 7 years old
Cabinets – Solid wood fronts with all doors and drawers attached in good condition
Doors - excluding hollow core, bi-fold and shower doors
Hardware – All types & fasteners
Flooring

Carpet: unused, 100sq ft or larger
Linoleum: unused, 25sq ft or larger
Wood & Laminate: full, unopened boxes

Furniture - no rips, stains, smells or other damage
HVAC - Furnaces, duct, bathroom fans and vents
Lawn & Garden - Tools, fencing, bricks and pavers
Lighting & electrical hardware - Light fixtures, new electrical supplies
Lumber & Siding -5ft or longer, no nails or screws
Paint- Latex paint in undamaged original containers with labels
Sinks & Fixtures - Clean, no chips, cracks or scratches
Roofing - Asphalt, wood, metal, plastic, tar paper
Tile - Never installed, 10 sq ft or larger
Toilets - 1.6 gpf or less, clean, working order with all parts
Tools and equipment -All tools in good working order, with all parts and pieces
Windows - Vinyl and wood, undamaged, unfogged, working order
Please see our donation guidelines for a complete description of items we accept.
Please note: This list is not comprehensive, but includes the majority of items we are able to accept. All donations must be approved by ReStore Staff.
Items We Are Unable to Accept As Donations
Please note: This list is not comprehensive, but includes the majority of items we are unable to accept. All donations must be inspected by ReStore Staff prior to approval. Please check Additional Resources for other options to donate or recycle materials we don't accept.
Furniture that is broken, stained, has torn fabric or excessive wear
Flat panel, mirrored or bi-fold doors
Mattresses or box springs
Office partitions
Consumer electronics (i.e., no radios, TVs, VCRs, computers, etc.)
Thermostats or other devices that may contain mercury or mercury switches
Any item containing asbestos (floor & ceiling tiles, older light fixtures, etc.)
Fluorescent lighting fixtures, bulbs or ballasts, unless new and in the box
Flammable or combustible chemicals, herbicides or pesticides
Automotive parts or fluids
Smoke detectors (new or used)
Aluminum framed or single pane windows
Roll-up garage doors, rails, or springs; (carriage style doors may be accepted)
Electric baseboard heaters, unless new and in a sealed box
Solo cabinet drawers or doors without cabinets
Window blinds
Non low-flow toilets (greater than 1.6 gallons per flush)
Used vinyl siding
Used gutters
Unframed mirrors or glass
Previously installed flooring, except for de-nailed hardwoods in good condition